Multipurpose digital unit C-8 is implemented as IBM PC compatible PCI extension on base of nine TMS320c54x DSP and is designed to serve as hardware base for real time data processing multichannel system.
It is possible to use unit C-8 with phone interface units to build multichannel IP-phone systems, digital voice recorders, auto-answering phone information services, intellectual automatic answering machines, voice mail and fax systems, and other devices with phone interface on the one side and computer features on the other.
This unit is used to build 8-channel IP-phone system and 16-channel digital voice recorder. To build 16-channel IP-phone system DSP should be upgraded from 80 MIPS DSP to 100 MIPS DSP.
Unit C-8 is implemented as IBM PC compatible PCI extension. Card size is 310 x 100. Unit block diagram is shown on the figure below. Interface part provides data input/output and controls other parts of the device. Processing part receives data from interface part, processes data, and sends results back.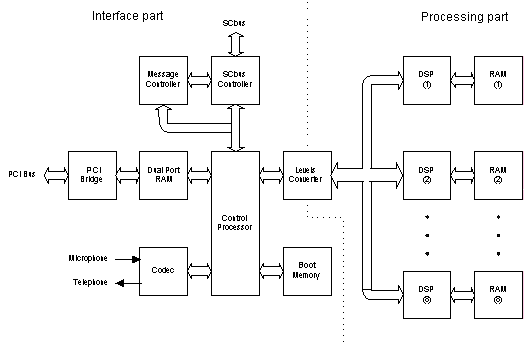 The main unit of interface part is Control Processor TMS320C542 (40 MIPS) DSP. It controls all board parts, provides data exchange between 8 data processing DSP and host PC via PCI interface, provides voice data transmitting from phone interface unit via SC-bus, and provides handset interface. Data exchange between host PC and unit "C-8" is implemented through Dual Port RAM, which is available for reading and writing both from PCI interface (RAM 4K x32) and from Control Processor (RAM 8K x16). PCI interface is built on base of device PCI Bridge PCI9050 (PLX Technology). Interface memory is mapped to host PC memory. Control Processor is connected to SC-bus Controller SC2000 (VLSI Technology) è Message Controller SAB82526 (Siemens) devices to implement SC-bus interface. SC-bus Controller manages SC-bus interface. This interface is used to transmit and receive voice data and control information. Message Controller is used to implement system message exchange via SC-bus. SC- bus has a special connector to connect a range of phone interface units. Block Codec based on TCM320AC37 (Texas Instruments) device is used as interface between Control Processor and handset equipment. Boot loader is stored in FLASH memory, based on M27C512 device. Host PC loads processing part DSP firmware using original protocol. Levels Converter is used to adjust signal levels between interface and processing parts. Processing part is implemented as 8 identical subparts. Every subpart contains TMS320LC548 (80 MIPS) DSP and RAM 64 K x16. Subparts 1, 2 and 8 are shown on the figure. Data exchange between processing and interface parts is held via Host Port Interface. Levels Converter is used as buffer.